Salvation Army Red Kettle Campaign
Help us – Help you!   Ring The Bell to give back to your community!   ALL of the funds donated stay right here in West Liberty to help OUR COMMUNITY!  Sign up for one hour (or two or three).   It can be just you, or grab a friend and have some fun!   Check out all the dates and get in the holiday spirit!     (Must be 14 or older to Ring the Bell alone – FACE MASKS ARE REQUIRED FOR ALL).  
We ask that Bell Ringers not be on their cell phones (unless you are posting a photo and supporting this campaign!)
Please review the available slots below and click on the button to sign up. Thank you in advance!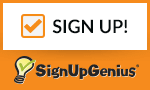 STOP THE SPREAD
The next Rotary Gala is scheduled for May 8, 2021 with our community partner, the West Liberty Fine Arts Booster Club. Gala Raffle and Event tickets are still being sold! Contact a local Rotarian or WL Fine Arts Booster Club member to purchase tickets.
The mission of Rotary International is to provide service to others, promote integrity, and advance world understanding, goodwill, and peace through its fellowship of business, professional, and community leaders.